A quote is a pearl of wisdom, a nugget of brilliance, an insight into our direction towards success. We all have the ability to interpret these quotes, but sometimes when we read them, we don't really dig into how they might be relevant to our daily lives.
When you join The Quotable Coach by putting your email address in the sidebar to the right, you receive a daily quote (Mon – Fri) with commentary and questions to help you take the time to explore what it might mean to you or how it might apply to you.
In just a few minutes each day, you can achieve new insights, and apply what you learn to your professional and personal life. Each quote is a daily morsel: the wisdom of the ages, distilled, so that you can quickly apply it to your day—and to your life.
The Quotable Coach™: Daily Nuggets of Practical Wisdom
My book The Quotable Coach: Daily Nuggets of Practical Wisdom is available from Amazon and CreateSpace. It contains 365 of the best quotes, reflections, and exercises from The Quotable Coach series so far.
About Barry Demp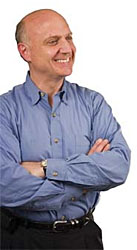 I started The Quotable Coach because I wanted to look deep into some of the most powerful words ever spoken and written; to discover what they could mean to me, and to other people; to make them something relevant that we apply in our lives.
As a Michigan business coach, I have worked with over 1,000 individuals over the past two decades. I help executives, business owners, and high-potential professionals to significantly increase their productivity, profitability, and life balance. If you are interested in finding out more, please take a look at my customized coaching programs here.