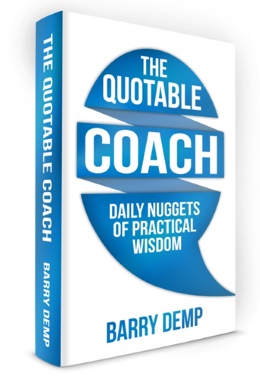 As a coach, I strongly believe that everyone should have access to coaching.
Yet I know that this isn't always easily available or affordable.
I wrote The Quotable Coach: Daily Nuggets of Practical Wisdom to make coaching accessible to everyone.
This book is designed to be a simple way to grow each day.
It's not just a book of quotes, like others that you may have come across: with every single quote, I include a short reflection to help you dig deeper, plus a practical exercise to encourage you to turn inspiration into action.
The book is available here:
I'm confident this will work for you: I've been running a daily series (Monday – Friday) of quotes for more than two years, reaching out to over a thousand people all around the world.
Here's what some of them wrote:
"I consider you a great thought leader and have no doubt that many people can benefit from your wisdom and guidance; I know I have in the time that you coached me directly."
– Ken Guity
"As a busy academic, I read a lot about time management and organization, but seldom do I find those ideas blended with inspiration, as they often are here. Thanks for that!"
– Linda Levitt
"Barry, your book will be great! Your coaching is so motivating. You are motivating me to explore options that I have been vacillating on for 2 years. Thank you!"
– Nancy Simon
"I just want to thank you for my daily dose of inspiration.  I look forward to opening my email everyday and reading your quote of the day. You have great insight and have obviously cultivated wonderful relationships in both your personal and professional life.  It is so nice of you to share so much of yourself with others."
– Kelly Mukomel
You can buy The Quotable Coach: Daily Nuggets of Practical Wisdom as an ebook from Amazon.com or Amazon.co.uk and as a paperback book from my CreateSpace eStore. It costs just $4.99 as an ebook, or $18.99 as a paperback.
About Me
I'm Barry Demp, a business and personal coach based in Troy, Michigan. I've been coaching for more than twenty years, and have worked with well over a thousand people, helping them grow in their professional and personal lives.
For 15 years, I have held the distinction of Master Certified Coach from the International Coach Federation.
Wendy and I have been married for 35 years and have raised two wonderful children, Dan and Rachel.
Ways to Use The Quotable Coach: Daily Nuggets of Practical Wisdom
Although the book is designed with 365 quotes, this doesn't mean you need to read a quote every day for a year (unless you want to!)
You might choose to:
Dig into five or six quotes every weekend.
Read one quote every Monday – Friday with a small group of colleagues at work.
Share and discuss a quote most evenings with your family or friends over dinner.
Write out several quotes that are particularly meaningful to you.
For maximum effect, please read the reflections and do the exercises.
(I'd love to hear how you benefitted from this book; please email me at barry@dempcoaching.com, or write a quick review on Amazon.)
Remember, you can get the ebook from Amazon.com and the paperback from my CreateSpace eStore.