"Reflect upon your present blessings, of which every man has many – not on your past misfortunes, of which all men have some."
– Charles Dickens, English novelist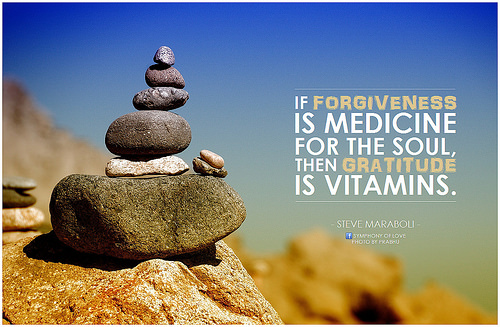 Image from Flickr by symphony of love.
One of the single most important things we can do to live a more fulfilling life is to exercise our "gratitude muscles" daily. You might find it interesting to know that gratitude:
Makes you happier
Makes people like you
Makes you healthier
Boosts your career
Increases optimism
Helps you sleep better
Gives you more energy
Helps you be more resilient
Increases self-esteem
Helps you live longer
Increases your energy level
Reduces stress
Improves all forms of relationships
Makes you more attractive, because you will be smiling more
Makes you a more effective leader and manager
Improves decision-making
Increases productivity
Exercise:
Take at least one minute today to journal about all the things you are grateful for.
Consider sharing this exercise with your family, close friends, and colleagues to make the most of the synergies available within these communities.