"I'm not a genius. I'm just a tremendous bundle of experiences."
– R. Buckminster Fuller, architect and inventor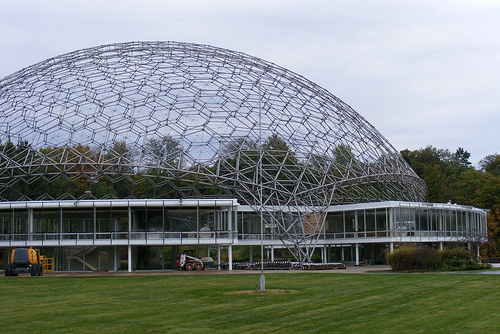 Image from Flickr by Ohio Office of Redevelopment.
Buckminster Fuller was a remarkable man. At the age of 32, he decided to use his life as "an experiment to discover what the little, penniless, unknown individual might be able to do effectively on behalf of all humanity."
Over the next 54 years, he:
Was awarded 25 US patents.
Authored 28 books.
Received 47 honorary doctorates in the arts, science, engineering, and the humanities.
Received dozens of major architectural awards.
Circled the globe 57 times, reaching millions through his pop-up lectures and interviews.
Popularized the geodesic dome, the lightest, strongest, and most cost-effective structure even devised.
Even Albert Einstein was prompted to say to him, "Young man, you amaze me."
Exercise:
How can you enhance and expand your own professional and personal experiences to discover and pursue your own genius and amaze yourself?
To learn more about Buckminster Fuller, you can go to: www.socialsynergetics.com/site/bucky-fuller