"A balanced diet is a chocolate in each hand."
– Unknown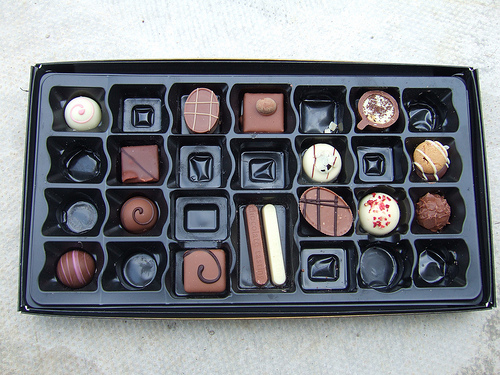 Image from Flickr by JohnSeb
Chocolate is considered a superfood with about five out of seven people worldwide enjoying it very much. I am one of them!
Below are some interesting facts to consider when enjoying this treat. (Some people believe it should even be its own food group…)
It can decrease the risk of stroke.
It can boost heart health.
It can fill you up and keep you full so you don't overeat (!)
It may reduce the risk of diabetes.
It may offer protection from UV rays and skin damage.
It can quiet a cough.
It can boost your mood – it does mine.
It can improve blood flow.
It can enhance your vision.
It can even boost your brainpower and make you smarter.
Exercise:
For those of you who enjoy it too, look for ways to moderately include chocolate in your life to make it a bit sweeter.
To learn more, check out the Huffington Post article "10 Health Benefits of Chocolate" at the link below:
www.huffingtonpost.com/2012/03/28/chocolate-health-benefits_n_1383372.html
Perhaps you could even give a gift of chocolate to someone you love. Valentine's Day is just around the corner…