"Make decisions by design, rather than default."
⏤Greg McKeown, author of Essentialism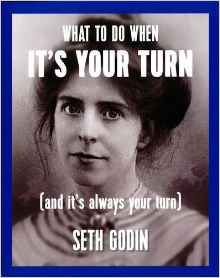 Seth Godin is one of my favorite authors. He has been blogging longer than almost anyone, and has written somewhere around 20 books. I particularly enjoy his provocative and edgy thinking on a large number of diverse subjects, especially when it come to being the leader in our own lives.
His recent book, What to Do When It's Your Turn, points out that it is always our turn if, as today's quote suggests, we make our own life decisions by design, not defaulting to the decisions of those around us.
EXERCISE:
Examine the degree to which you make your own important life decisions by design rather than default. How can you "choose yourself" more often, and decide that it is your turn to lead the life you were meant to live?