"One of the hardest decisions you'll ever face in life is choosing whether to walk away or try harder."
—Author Unknown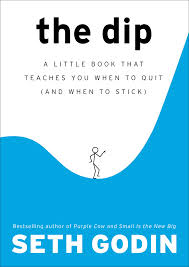 Today's quote reminds me of an excellent little book by Seth Godin titled "The Dip." The subtitle is: "A little book that teaches you when to quit and when to stick."
Godin believes that winners quit quickly, often, and without guilt, until they discover the right DIP, worth beating for the right reasons. They realize that the bigger the barrier, the bigger the reward for sticking and getting beyond it.
He further demonstrates that people who lose fail to stick out their DIPS when they quit at the moment of truth—or they simply never discover the right DIP to conquer.
EXERCISE:
Consider picking up a copy of "The DIP" to discover for yourself whether you should stay the course or summon the courage to quite sooner or more often.