"Too many young people itch for what they want without scratching for it."
—attributed to Tom D. Taylor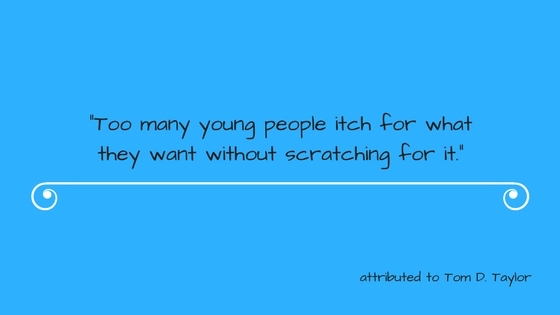 On a scale of one (low) to ten (high), rate your own perception of the work ethic, general persistence, and grittiness of the six generations of people currently on the planet:
GI Generation, born 1901-1926
Mature | Silents, born 1927-1945
Baby Boomers, born 1946 -1964
Generation X, born 1965 – 1980
Generation Y | Millennials, born 1981-2000
Generation Z | Boomlets, born 2001 and after
What do you think are their goals, desires, and wishes?
What general environmental and societal factors have shaped their attitudes towards work and improving their lives?
EXERCISE:
To what degree do you and others in your multi-generational communities scratch the itches in the hard-to-reach places?
Check out this link to discover some interesting characteristics of each group.