"Figure out what it is in life you don't do well, and then don't do it."
—Doug Copeland, former president and publisher of the Triad Business Journal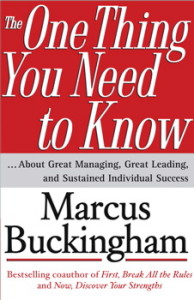 As I observe individuals and organizations pursuing success in our increasingly dynamic world, I see a great deal of frustration and stress.
Our collective drive, intelligence, and creativity has never been greater, yet it still feels as if something is missing.
Our efforts to have it all, do it all, and be it all seem possible when we look to the media.  In the real world, this formula for the perfect balance is elusive, if not improbable.
Navigating today's world requires more filters and focus, to design our own imbalanced yet more workable, satisfying, and fulfilling lives.
EXERCISE:
Take a personal inventory of all the things you don't like doing or that you don't do well. Stop doing them as soon as possible. This should make more room in your world to focus on your strengths, so you can do the thing you are good at and love to do.
Consider reading Marcus Buckingham's "The One Thing You Need to Know" for more insights into great leading, great managing, and sustained individual success.