"All habits serve you in some way — even the bad ones — which is why you repeat them."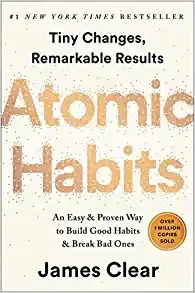 Atomic Habits by James Clear is a big success, with about 30,000 Amazon 4 or 5 star ratings.  The book explores tiny changes we can make that can lead to remarkable results.
Being mindful and aware of our habits — both good and bad — is a key place to begin. Until we see that there is an obvious — or sometimes obscure — payoff or benefit that serves us in some way, we are destined to repeat them.
EXERCISE:
Please purchase Clear's book, or check out its wisdom by exploring some of the excellent YouTube videos or book summaries available.
Also check out Clear's 3-2-1 Thursday newsletter in which he shares three ideas, two quotes, and one question to ponder.
His motto for the newsletter is "Working to deliver the most wisdom per word of any newsletter on the web."