"Learning is a treasure whose keys are queries."
—Arabian Proverb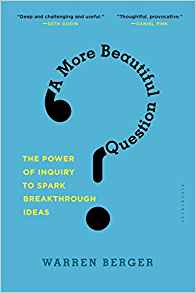 Have you ever played the lottery hoping to strike it rich? Perhaps as a child you searched on a sandy beach, hoping to find a bit of buried treasure.
The daily pursuit of knowledge and nuggets of wisdom are a form of treasure hunt instantly available to you. Today's quote points to the importance of curiosity and a mind filled with questions, as keys to opening the vaults and delights of learning.
EXERCISE:
Consider picking up a copy of A More Beautiful Question by Warren Berger to become a more masterful locksmith in opening the treasure chest of life-long learning.
Another book I like very much that will help in this area and develop your own proficiency as a coach is The Coaching Habit by Michael Bungay Stanier.