"I have simply tried to do what seemed best each day, as each day came."
—Abraham Lincoln, 16th President of the United States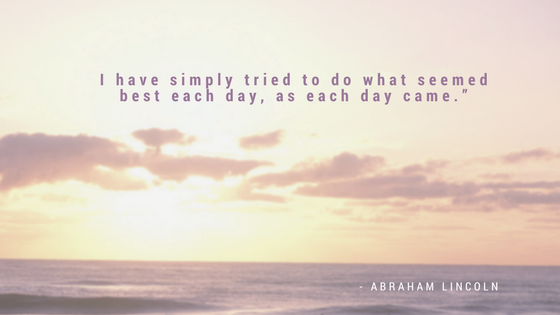 A state of calm centeredness came over me when I read today's quote. My first thought was "I can do that!"
Many of us experience overwhelm in the enormity of all that must be done in our lives. Far too often we are exhausted by the end of the day, and frustrated by not having achieved what we intended. We then add insult to injury by throwing in our own negative commentary.
Alternatively, being satisfied with our best, which can differ from day to day, grants a peaceful and accepting sense of our humanity, and what Brené Brown would call the "Gifts of Imperfection."
EXERCISE:
How would taking your life one day at a time, doing your best regardless of what happens, be the source of a happier and more fulfilling life?