"You can preach a better sermon with your life than with your lips."
—Oliver Goldsmith, 18th Century Irish Poet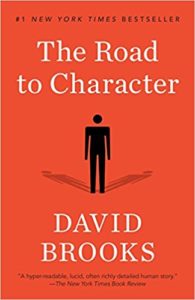 Over the past few years I have gained a great interest in history, with a particular emphasis on the lives of remarkable people who have shared our world.
In his book, The Road to Character, author David Brooks focuses on the deeper values that inform the lives of numerous pivotal figures. I had no knowledge of many of them before reading this book.
Introducing the terms "resumé virtues" and "eulogy virtues," Brooks points to the external achievement of wealth, fame, and status, comparing them to qualities that lie at the core of our being, such as kindness, bravery, honesty, and faithfulness. How we balance the two types of virtues along our life journey represents the road to character we can choose to navigate and explore.
EXERCISE:
Who are the leaders and special individuals – today, and from the past – that helped you become the person you are today?
What examples did they set through their daily efforts as well as their words?
What sermons are you delivering each day in your personal and professional communities?